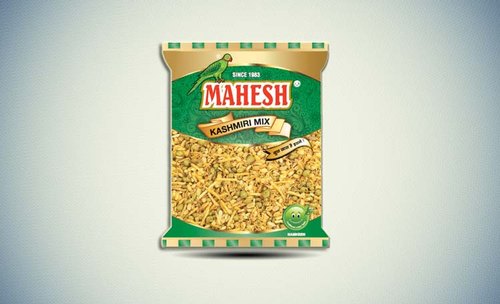 Food is an essential substance that provides nutrients to support the body's functions. Humans are fond of different types of foods. Food is not essential to satisfy hunger; it is also essential for mental satisfaction. Snacks and namkeen are kinds of foods that satisfy the craving for salty foods. Snack is also an essential source of protein and carbohydrates.

Different Types of Snack

Different types of Kashmiri namkeen and snacks that are available in the market are as follows-
1. Namkeen
2. Salted snacks
3. Chips
4. Veg snacks
5. Bhujia
6. Spicy mixture namkeen
7. Aloo bhujia
8. Banana chips
9. Masala papad
10. Moong dal namkeen
11. Khakhra
12. Roasted chana
13. Popcorn
14. Salted peanuts
15. Salted cashew

What Do You Mean by Namkeen?
The word 'namkeen' comes from the word 'namak' or salt. Any salty food should come under the category of namkeen foods. chanachur, bhelpuri, chiwda, murukku, and fafda are kind of namkeens. Around the world, Namkeens have huge demand, and it tastes excellent when you consume namkeen with tea or coffee.

Features of Namkeen Food
Namkeen is famous around the world due to its unique features, such as-
1. Quality of the foods that are tasty
2. A unique flavor that is mind-blowing
3. Variation of namkeen

When you find all of the above features in a single snack, it is known as namkeen. Different types of namkeen suppliers are available in the market, but Kashmiri namkeen suppliers are unique because they use organic grains, herbs, and masala to prepare authentic quality namkeen. These namkeen do not harm your health but provide great taste.

The Uniqueness of Namkeen Food Products
Organic namkeen is prepared with wheat flour, edible vegetable oil, salt, organic herbs, and spices. Organic namkeens do not consist of huge oil or artificial flavor. This organic namkeen is free from artificial color and preservatives. Matar is a unique source of protein, is available in namkeen flavor. Chatpata Matar namkeen is made from refined oil. Organic dried chana is available in hing and jeera flavor. namkeen manufacturers always take care of the nutritional value of the namkeen foods and maintain their salty and spicy flavor.

Problems in the Snack Manufacturing Industry
The snacks industry suffer from huge revenue loss due to the following reason

1. Due to the shortage of trucks and drivers, Transportation between states is hampered. Thus it creates a problem for supplying Kashmiri namkeens around the other part of the country.
2. Many people think that namkeens are not good for health and create lots of health issues. But it is not effective for organic namkeen that does not harm your health.
3. Packaging is also a significant problem because airtight packaging is essential to maintain the namkeens in good condition for a long time.
4. Due to the lack of innovation of new namkeen recopies, people do not want to consume traditional namkeens recipes such as Bana chips, Masala papad, Moong dal namkeen, Khakhra,
Roasted chana, Popcorn, Salted peanuts, Salted cashew
5. The Namkeen industry needs huge innovation to become popular in the market.